Predicting the future is a dangerous game. Just ask the Vegas gamblers, the Wall Street Bankers, and the Federal Reserve economists. Better still, ask the meteorologist who confidently forecasts sunny, blue skies but miscalculates mother nature's scheming, leaving the sunny-weather-dependers wet and without umbrellas. While not a gambler, stock broker, economist, or weatherman, I, like many others, share a unifying quality with these forecasters – an interest in trends, current events, and frequent topics of conversations.
Before I make my prediction, here's a quick history lesson on the evolution of healthcare and social media. Several years ago, first with MySpace, then Facebook, and followed soon after by Twitter, Instagram and many others, the social media revolution began, and quite quickly, this new medium of  communication became mainstream. After a somewhat sluggish adoption, the healthcare social media movement began, bringing with it both enthusiasm and skepticism. Patients are increasingly using the internet to access health-related information, and these same "e-patients" are among the 74% of online American adults who use social networking sites like Facebook, LinkedIn, and Twitter. Many physicians and others within the healthcare industry nonetheless continue to stay seated in the waiting room until social media participation becomes requisite for the successful practice of medicine.
So what is the future for healthcare social media? That is almost the exact question I discussed with other "healthcare leaders" in a recent (#hcldr) twitter chat.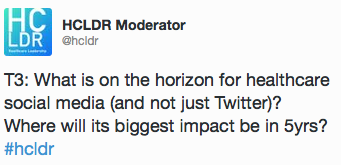 The predictions from these social media leaders were interesting and varied from those who believe the greatest impact for healthcare social media in the next five years will be in its integration into medical education curricula, those who expect greater social-media-friendly communication between doctors and patients, and even the prediction that the social media tool that will be most widely used to enhance healthcare within the next five years has yet to be invented!
So what will be the greatest impact of healthcare social media in the next five years? Here is my prediction.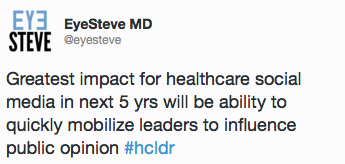 Just as a wall-street stock broker or meteorologist must always validate their prediction, here is why I believe the future of healthcare social media lies in its ability to quickly mobilize leaders to influence public opinion.
1. Quickly
Gone are the days of tuning in to the 6 o'clock nightly news to get the latest news. Believe it or not, the radio, once believed to be seemingly instantaneous communication with the public, has become somewhat obsolete. Wait, you may be thinking, who depends on TV and radio for their news, welcome to 2014, we all use the internet for news. However, consider this. In the time it takes for the journalist to type up the story and publish the story online, that news has already percolated the airwaves of social media. Even if you have not yet begun to use social media, and in this case, Twitter, to learn of the most recent news, try this experiment. Next time you want to know what is going on at a live sporting event or the latest updates regarding events of national/international importance, search twitter for trending hashtags. The news, while not-always-entiredly-accurate, is raw, unedited, and often first-hand reporting by the millions of twitter-users-turned-journalists tweeting worldwide. Healthcare social media provides the ability to quickly, almost instantaneously gather information on current health-related issues, and for those healthcare professionals active in social media, the ability to gather information is superseded by the opportunity to share with the public their informed opinions, providing a qualified and vetted stance on health-issues of public concern.
2. Mobilize Leaders
"One, if by land, and two, if by sea" was the phrase coined by Henry Longfellow in his poem Paul Revere's Ride. This signal was meant to inform fellow patriots of the route the British troops had chosen to travel on the verge of the Revolutionary War. This 1775 method of communication was designed to allow Revere to quickly mobilize patriot leaders to prepare for battle against the British red-coats. While the future of healthcare will rely on social media instead of lanterns and horse rides through town to mobilize its leaders, the purpose will be much the same. The recruitment of physicians and other healthcare professionals to the Twitter army continues every day, and with each new recruit comes greater establishment of those already leading the charge. A few of the healthcare leaders I believe have the greatest potential to lead us into the future of healthcare social media include the following:
1. Dr. Sanjay Gupta (@drsanjaygupta), a neurosurgeon, blogger, and Chief Medical Correspondent for CNN, with nearly 2 million Twitter followers.
2. Dr. Atul Gawande (@Atul_Gawande), a surgeon, public health researcher, staff writer at The New Yorker, and author of multiple books, with almost 95,000 followers.
3. Dr. Kevin Pho (@kevinmd), deservingly regarded as "social media's leading physician voice," and the founder of KevinMD.com, with over one million monthly page views and over 107,000 followers on Twitter.
Just imagine if these three physician leaders quickly collaborated and agreed to tweet unified content to their millions of followers. Within seconds these high-ranking officers could both inform their followers as well as mobilize other healthcare social media leaders such as Dr. Wendy Sue Swanson (@seattlemamadoc), Dr. Mike Sevilla (@drmikesevilla), and Dr. Brian Vartabedian (@doctor_v), in turn informing their specialized armies of followers and even mobilizing the many other physician bloggers and healthcare social media leaders in a coordinated, unified, targeted attack on matters of public health concern.
3. Influence Public Opinion
The ability of healthcare social media to quickly mobilize its leaders is only preliminary in its most important task, influencing public opinion. But can social media, in this case, Twitter, with its 271 million active users, actually influence public opinion? That question was answered by researchers Fei Xiong and Yun Liu earlier this year, who, after gathering and sorting over six million tweets by topic, then analyzed how the underlying sentiments of the Twitter users changed over time. The study revealed several important insights into how Twitter can change public opinion, including:
Public opinion on Twitter evolves rapidly and levels off quickly into an ordered state in which one opinion remains dominant.

The consensus opinion is often driven by the endorsements of groups with the most influence.

Small advantages of one opinion in the early stages can turn into a bigger advantage during the evolution of public opinion.
The future of healthcare social media will include a greater ability to influence public opinion by means of the timely mobilization of key leaders/organizations and the dependence on their followers to further spread a unified message via related tweets, retweets, blog posts, and further penetration of mainstream media. What will this look like in the future? Physician societies such as the American Medical Association and/or specialty-specific societies, such as, the American Academy of Ophthalmology, will begin to more heavily engage their respective social media leaders to tweet consistent content using a consistent hashtag at a specific time or on a specific day. Beyond these formal requests by large, governing organizations, individual healthcare social media leaders will also begin a grassroots effort to deliver similar content to their followers, recognizing the increased exposure of their message via collaboration and teamwork.
The future of healthcare social media will depend on leaders, both those with 100,000 and those with 100 followers to collaborate and coordinate efforts to quickly deliver consistent content and effectively influence public opinion.